WHEN AMC ANNOUNCED that they were going to produce a companion series to their ratings juggernaut The Walking Dead to air in late summer, 2015, I was more than excited. I was in a state of absolute squee.
Fans of The Walking Dead speculated about the companion series' title, characters, and plot – Where would the show take place? Would the two series be connected? Would fans be treated to twice the amount of Daryl Dixon?
After months of internet rumors and fan speculation, AMC revealed that the companion series, Fear the Walking Dead, would air (in the U.S.), starting in August of 2015.
The only hope The Walking Dead fans held dear was the hope that Fear the Walking Dead be as good as (hopefully better than) the original series.
Well…….
Ok, I know that The Walking Dead isn't the greatest show on television.
To be completely honest, the show is more entertaining than it is good.
However, being the incurable zombie junkie that I am, I was a fan of Fear the Walking Dead before a single episode had ever aired.
But then, something happened.
I watched the show.
Some folks have complained about inexplicably stupid things that the characters do or about the show's lack of zombies or even griped about the slow as shit and boring as fuck pace of Fear the Walking Dead.
To be fair to those who are disappointed, these are perfectly justifiable complaints about the show.
And there are some people who just plain don't like the show.
I'm not one of those people.
I'm not at all ashamed to admit that I'm actually enjoying Fear the Walking Dead.
Perhaps even more than I like the original series.
However, enjoying Fear the Walking Dead doesn't mean that I have nothing to complain about.
I do.
More than a few things.

Watching the show, I noticed that there was something bothering me. Something was nagging at my inner philosopher. There just aren't any good people on the show. I mean, no morally good people.
Wait a minute – I realize that not everyone is familiar with or has watched Fear the Walking Dead. Allow me to take a moment to briefly describe the show's plot:
Fear the Walking Dead, a companion series to The Walking Dead, follows the lives of high school guidance counselor, Madison Clark and her children, above average teenage daughter, Alicia, and heroin addicted son, Nick her boyfriend and high school English teacher, Travis Manawa, Travis' ex-wife, Liza Ortiz, their son Chris, and the Salazar family, headed by Daniel, a barber immigrated from El Salvador, and Daniel's wife, Griselda, and daughter, Ofelia, as they struggle to survive a zombie outbreak in East Los Angeles.
As I said before, my problem with the show really has nothing to do with the series' slow pace or lack of zombies. My problem is purely philosophical.
In a show where the audience is expected to root for the characters to survive, the show's writers have made it difficult for the audience to conjure up an appropriate amount to like for any character to be morally worthy of being rooted for.
In The Walking Dead, there are morally good characters (e.g. Beth, Amy, Sophia, Dale and T Dog). The audience sees that they are good people and we root for them to make it through the zombie apocalypse alive. The audience feels a loss when they die.
That's because we are upset when bad things happen to good characters.
The Walking Dead also has definitively morally bad characters (Shane, Dave and Tony, The Governor, Randall, Gareth, Joe, and so on).
These characters are clearly morally corrupted people and their actions reflect their moral aptitude: Shane attempts to kill Rick, The Governor kills his own people, and Gareth is a cannibal. These characters are bad people and we, the audience, are not expected to sympathize with these characters or to condone the bad things that they do.
We see that Rick Grimes and his fellow survivors are faced with doing either good or morally bad acts, and we see the characters struggle with the consequences of what they do. Rick showing mercy to Andrew the inmate ultimately results in the death of his wife Lori. Rick, in turn, becomes less willing to extend good will and mercy to others. We see what happens when Rick's new ethic is taken to the extreme with Gareth and the survivors at Terminus, who live by the motto "You're either the butcher or the cattle".
Despite the fact that morally ambiguous characters (everyone else) in The Walking Dead often shift their moral position, they still remain sympathetic and relatable to the audience.

On Fear the Walking Dead, when we are introduced to the character Travis Manawa, we see that Travis is a good man.
How do we know that Travis is good? He's a schoolteacher.
Likewise, Travis' girlfriend, Madison Clark, is a good woman.
Because she's a high school guidance counselor.
…and no one not good would ever do that.
Madison is such a good person that, when a student tells her that the dead are coming back to life and attacking the living, she insists that the government would inform the public if there was a real threat to the public.
We're also introduced to Madison's heroin-addicted son, Nick, who is so deep in his addiction that he can't tell if he actually witnessed his undead girlfriend eating another person or if he ingested some bad junk.

Does anyone even call heroin "junk" anymore?
Although Nick is a drug addict (a trait usually associated with bad people), we're assured he's a good kid who has misfortune of having a very bad habit.

The characters of Fear the Walking Dead are supposed to be good people. And for the first couple of episodes I believed that they are.
I don't feel that way anymore.
Ok. I know. The Walking Dead is, at it's core, a morality play. The show has characters that are either morally good or morally bad people. We like Rick Grimes because he is a GOOD man. We dislike Gareth, Joe and the Claimers, and Randall because they are BAD people.
That is what makes the show enjoyable.
The problem with Fear the Waling Dead is that it's completely devoid of morally good people.
Well, maybe except for Tobias.
You see, the problem with this show is that watching it I got a big case of the feels – the moral feels. I'm feeling all sorts of stuff that I shouldn't feel about a TV show filled with characters I'm supposed to identify with, like, the entire show seems to be comprised of characters you'd least want to be around (you) if society is overrun with flesh-eating hordes of the undead and civilization goes to hell in a hand basket.
Morally speaking, Fear the Walking Dead is a study in –
Wait a minute, you say. You say you've seen the show and you see nothing morally wrong about what any of the characters do. The world has fallen apart and the characters are simply doing what they need to do to survive. Moral ambiguity, even the capacity to do what is morally wrong, is a necessity in The Walking Dead universe. And, that would be a reasonable thing to think if not for the fact that the walking dead hadn't already told us that
Lori Grimes on doing the wrong thing:
If the overriding ethical principle in The Walking Dead is that humanity must retain it's morality, even when the world ends, then it is reasonable to assume that the moral message would hold in the Fear the Walking Dead as well.
Six episodes into the series' run, and I've already developed a level of disdain for characters that the average viewer takes at least three seasons to develop.
… and this on show supposedly full of morally good people.

One character who has quickly emerged as a fan favorite is Daniel Salazar.
Daniel (played by Ruben Blades), is a barbershop owner who gives Travis, his son, and ex-wife shelter during a riot. When we meet Daniel and his family, Daniel initially refuses to provide shelter to Travis and his family. Daniel lets them in only after his wife, Griselda, insists that he open his doors to people in need.
The fact that Daniel is a fan favorite is kind of troubling.
Daniel Salazar tortures a man to get information about "Cobalt", a military plan to exterminate all beings, dead and living, in Los Angeles, and unleashes a horde of zombies upon a military outpost (and unsuspecting neighbors) just to rescue two people – one of whom was already dead.
The seemingly fan-approved actions of Daniel Salazar makes me morally uncomfortable.
Really morally uncomfortable.
I mean, really. Is Fear the Walking Dead telling me that torture is a good thing?
Now, that can't be right. Even the CIA admits that torture doesn't work (see: http://www.independent.co.uk/voices/comment/torture-it-didnt-work-then-it-doesnt-work-now-9923288.html). The philosophical problem with engaging in acts like torture, as that old utilitarian chestnut of intended outcomes tells us, is that inflicting pain as a means of obtaining accurate information sometimes doesn't yield correct information, and that means we don't get the right outcome we want.
The next morning the city is not under attack. So, was the soldier Daniel Salazar tortured lying about "Cobalt" ? Did the soldier give Daniel inaccurate information? Sure, we can say that Daniel and his cohorts may have prevented the military from enacting "Cobalt".
But at what cost?
Did they truly know that "Cobalt" was going to happen?
If the CIA report is correct, and the tortured soldier lied or provided Daniel Salazar with inaccurate information about "Cobalt", Daniel Salazar unleashed a horde of flesh eating zombies on his defenseless neighbors – for no good reason.
Daniel Salazar's actions can't be morally justified.
Can it?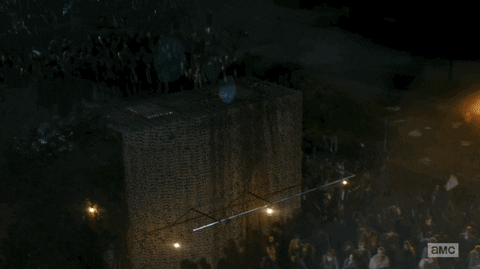 After watching the six episode inaugural season of Fear the Walking Dead, it seems that the moral message of the show is this: if you're a good person you won't live long.
To survive in the Fear the Walking Dead universe you have to abandon your morality, something that characters like Daniel Salazar do all too easily. Daniel articulates the series' moral philosophy with the subtlety of a crossbow bolt to the cranium when he states that good people die.
In one scene, when a soldier challenges Travis to shoot a zombie trapped in a doughnut shop (Oops, walker. No, skinbag. Wait, her name is Kimberly),Travis is unable to shoot the zombie. He later lets the soldier that Daniel is tortured free (of course to disastrous results). Travis is incapable (unwilling) to shoot a zombified neighbor. Daniel is so disappointed by Travis' good guy-ism that it leads Daniel to observe that Travis Manawa is

I made a short list of a few more things that I found morally troublesome about Fear the Walking Dead:
Ofelia Salazar seduces a young National Guardsman (who later is tortured by her father, Daniel) for the purpose of obtaining drugs for her mother's injured foot.
Madison Clark's indifference to Daniel torturing the soldier.
Speaking of indifference – the characters' indifference to unleashing thousands of the undead on their neighbors (Ofelia states that she doesn't care about the neighbors because they didn't help her when she needed help).
Keep in mind that the neighbors are good people – the kind of good people that Daniel Salazar says are going to die.
And speaking of other good people – Nick Clark's newly acquired friend, Victor Strand, refuses to help others escape from holding cells when Daniel Salazar unleashes zombies on the military outpost/detention camp.
Speaking of Nick Clark…
Madison's son, Nick, a heroin addict, steals a morphine drip from a dying neighbor.
In case you missed it, Nick totally stuck a dying man's morphine drip into his foot so that he can get high.
Stealing is wrong, especially stealing from a dying man.
Remember, these are the actions of characters we're supposed to like.
If you think about it, the "bad" guys (the military) really aren't that bad.
The military doesn't seem to be abusing or taking advantage of anyone. They've swept and cleared certain areas of the city and erected defensive perimeters around safe zones. They locked thousands of zombies in a sports arena, keeping the undead away from people. They've provided food, medical assistance, and electricity so people in the safe zones can maintain a sense of normalcy while the military risks their lives to sweep the undead from Los Angeles.
At worst, they've got a bit of an attitude.
Maybe it's because they're a little fatigued from non-stop patrols and worrying about their families.
They're rude but that's no (morally justifiable) reason to massacre them.
Likewise, Dr. Exner wasn't an evil doctor who snatched Nick away from his family. She was a good doctor who actually attempted to treat people and put them down humanely to prevent them from turning and infecting others after they died.
Did she deserve to have a mass of flesh eaters turned on her? Probably not.
Alright. I know all of this sounds like nitpicking. It very much is. Am I mischaracterizing some characters for the sake of a blog post? Most likely. I know that Travis, Madison, their families and the Salazar family aren't all bad and the military isn't all good.
It's perfectly reasonable to argue that there are legitimate ethical reasons for why all of the characters do what they do.
I can't think of any that would justify Daniel Salazar's actions, but you can try to convince me that there are a few morally justifiable reasons.
Despite my moral qualms, I like the show. It's got zombies and there's blood and guts and stuff. I'll keep watching even if I find the characters morally reprehensible. A TV show doesn't have to have morally sympathetic characters to be philosophical. Even a morally bankrupt character is philosophically intriguing, if only to point out how many times the character violates the Categorical Imperative or how a character's actions prove that utilitarianism is the worst ethical theory ever.
In the end, I guess I'll just have to keep in mind that if I awake from a drug-induced stupor to find the world overrun by the undead, when Daniel Salazar shows up, I'll probably end up sprinting into the blades of a helicopter.